7 of the Best Print Design Trends to Watch Out For This Year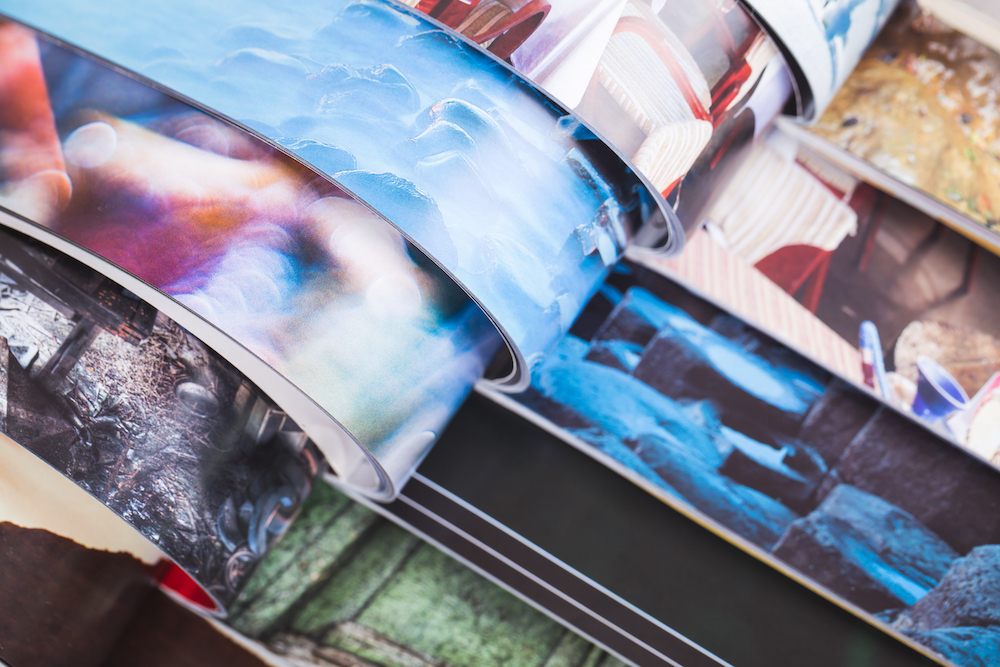 When you are making the investment in creative printing solutions, you want to ensure that you are getting the most bang for your buck. After all, print marketing is an important tool for advertising your business. This is because printed materials play a significant role in branding your company and giving yourself a professional, polished look to inspire trust for your target audience. That being said, you want to strike a balance between informative and trendy while still maintaining your brand.
>Today, our Salt Rank team is going to outline some of the best design trends to look forward to in 2023 as well as provide some information about how we can help you get started. Keep reading to learn more below:
#1.) Printed and Digital All In One Place
First off on the list, you can look forward to combining multiple elements of your advertising efforts. Utilizing digital tools, such as QR codes, on your printed materials is a great way to guide potential customers or clients to your website. You can also use your website to create a specific landing page that ties into your printed materials. For example, if you are handing out fliers or sending out postcards to a specific event, include a QR code that allows them to RSVP right away. Using both printed and digital marketing methods in tandem has the potential to yield some amazing results.
#2.) Nature Designs
When choosing design elements for your creative printing solutions, note that 2023 is all about getting back to the roots of nature. Designs that feature aspects of nature, such as floral prints and earth tones, are going to be extremely popular this year. This is likely due to the pandemic and many people are looking forward to being outside and connecting with the world around them once again. From flyers to newsletters to business cards, opt for natural layouts that emphasize the clean, crisp feel of nature.
#3.) Bold and Straightforward Fonts
While you might be utilizing various flowy and light natural elements for your design, it is necessary to stick to straightforward typography in your printed materials. The titles, headlines, and fonts should all be clear and easy to read quickly. If a potential customer or client has to spend too much time trying to decipher what a word is, they are going to lose interest in no time. Most major online news journals and even social media sites use common, easily readable fonts. Most consumers expect this concept to carry over into other aspects of marketing as well.
#4.) Personalization Is Key
Whether you have a wide range of customers or cater to a niche market, bringing a personal element into your print marketing efforts is essential. You want to make sure that you are both presenting your brand in the best light possible as well as catering to what your customers want to see. This is easier said than done, but using creative printing solutions, such as what is available from Salt Rank, can really help. Custom, personalized materials show your target audience that you are reputable, trustworthy, and above all else, understand your customer base.
#5.) Include Customer Reviews
You can talk about how great your product or business is until you are blue in the face, but a potential customer might not care. After all, it's your job to sell your product and hype yourself up. However, there is nothing more powerful than word of mouth. When investing in your next round of printing materials, consider including positive customer feedback that you have received lately, such as from Google or social media reviews. Highlight testimonials that talk about your customer service, the quality of your product and service, and how you made a past customer feel valued or heard. This simple measure can provide a wealth of positive PR for your company.
#6.) Eco Friendly Printing and Packaging
As is the theme of your design, prioritizing the earth should also be a part of your packaging. Whether you are sending a box of flyers to a destination or mailing out individual postcards, consider going green. One of the easiest ways to go eco friendly is to print your materials on recycled paper and use recycled cardboard for packaging. Also, include a little line encouraging customers to recycle your printed material once you are done with it as opposed to tossing it in the garbage. Every little bit helps!
#7.) Offer Unique Coupons and Discounts
Last but certainly not least, if you want to ensure that your printed marketing materials are truly making an impact, then be sure to include unique coupons or discounts. If you are a retailer or a service provider with a brick and mortar location, encourage your customers to present the coupon in person the next time they visit your store.
Or, if you are an online retailer, include a unique coupon code they can use at checkout. A QR code with a landing page would also be extremely beneficial to add here! This will both drive traffic to your website or store while also giving your audience and incentive to shop. As an added bonus, it will be very easy to track the ROI of your printed marketing efforts.
Creative Printing Solutions From Salt Rank
All too often, business and retailers are quick to dismiss the effectiveness of using printed materials, especially in 2023. However, if you follow these design trends, you are sure to see an uptick in sales and engagement. Having tangible marketing materials to give out is a great way to increase your brand awareness and build your reputation.
If you are wanting to get started with creative printing solutions for your company, then look no further than Salt Rank! Our team of highly skilled and creative designers are here to help you create materials that are both trendy and informative. We can even help you design a logo as well as choose colors and fonts that will really resonate with your unique brand and image. Every business has a mission with a story to tell, and we're here to help!
To get your free consultation, contact us today! Let our Salt Rank team help you make the most out of your marketing efforts this year.
Share This Story, Choose Your Platform!