7 Reasons Your Business Needs a Website No Matter The Size
These days, expecting to get customers without having a website is like being on a deserted island and waiting for your neighbors to pay you a visit. If your small business website isn't easy for people to find (like on the first page of search engines), then they just won't find it.
More people (91.6%) reported using the internet to find new stores rather than finding a brick and mortar store the old-fashioned way (walking, 8.4%). This is according to Market Research.
Having a professional website is a must for presenting your business to new potential customers. Still, need convincing? Here are seven reasons why you should have a website.
Let's take a closer look!
1. 24/7 Engagement
If you don't have a site for your business, you won't have any influence beyond your storefront. Thus, you won't be able to engage as often with your target audience.
On the other hand, if you're operating an amazing website, your loyal customers can reach your business 24/7/365. This is true regardless of what you're selling, whether it be a product, maintaining a blog, or just promoting your own personal brand.
And think about it. Those who haven't heard of your business can still discover you via search engines if you take advantage of SEO tips and tricks when creating your website. Having a steady stream of customers is what every business dreams of!
2. Compete With the Big Brands
A common misconception is that a website is only useful for multinational corporations or national companies with customers all around the world. However, websites can actually be even more useful for small businesses.
They are an excellent way for a local business to reach out to nearby potential customers.
The way that search engines prioritize the search results works in your favor. They usually rank local searches based largely on location, which will benefit you as a local business.
For instance, if you search "web design agency near me," Google won't put web design agencies in other countries. Instead, it will show you the agencies that are closest to your location at the top of the search results.
3. Spread Your Reach Far and Wide
93% of people are only willing to travel a maximum of twenty miles to make routine purchases. Furthermore, 87% claimed that they wouldn't travel longer than 15 minutes. So if you just have a traditional brick and mortar shop, your potential customers are heavily limited only to people who are located within a 15-20 minute radius.
The lesson is that you want to reach as many people as possible, a website is a must.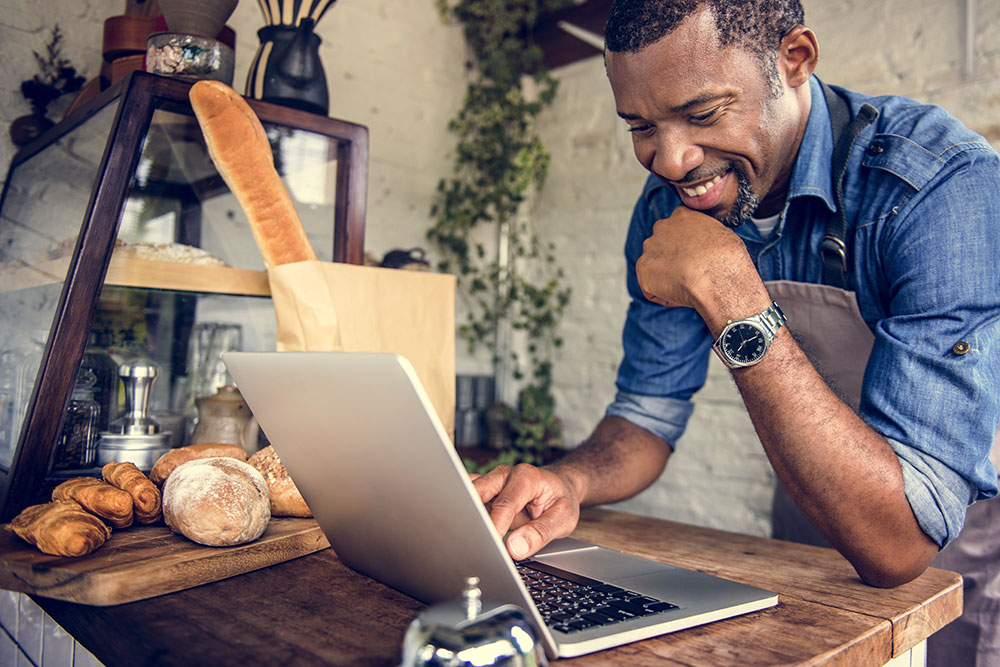 4. Take Control of the Narrative Online
The majority of people check online to look for businesses. However, another thing that strongly influences purchase choice is word of mouth. This could refer to recommendations from friends and family. However, it also refers to those who write reviews about their experiences with the services or products. This is more important than you think: 90% of consumers report that their purchasing decisions are influenced by online sentiment, comments, and reviews.
So this begs the question: how can you stay on top of social feedback and harness this potential? Easy: just put them on your website! Those good reviews and testimonials you've collected can be published on your site to impress site visitors.
When it comes to promoting your website, it's fine to brag.
5. Become an Industry Expert
A local store can only do so much for you when you are trying to build your brand. But making your own custom-made website with the help of a web design agency will give you access to the billions of people who surf the internet each day.
Besides getting exposure, your presence on the web will get your business established as an authority in your industry. By creating and providing valuable blog content, informative videos, professional tips and advice, and those 5-star reviews you've piled up, your brand will become trustworthy in the eyes of your customer base. Some of them will even want to become your followers. But, of course, social media is a whole other topic with plenty of tips and tricks to use Instagram, Twitter, and Facebook to their full potential.
When thinking about your business, don't limit yourself to only a logo and storefront. Rather, think about the possible avenues you have for growth and scaling your business up on the web.
6. It Makes Your Other Online Tasks Even Easier
When spending money on your website, especially with the help of a web design agency, your other tasks such as sales and marketing become much easier. For instance, instead of requesting your team members to cold call, you could set up an online marketing campaign. This campaign could just capture leads from those who are looking for services and products similar to yours. In effect, your team members could pitch and sell to the people interested in what you have.
Plus, online marketing, whether it's SEO, paid search, social media marketing, content marketing, etc., allows you to connect to those trying to search for you.
You could also think of it like this: 81% of people research online before buying something. If you focus on making excellent content for your site, you're helping that 81% make a better decision. They'll surely make a better decision if you're able to get your message across to them.
7. Get More Local Sales
Previously we discussed how you can have access to a much larger array of potential customers. Still, what if your business wants to remain small and local? Is it still necessary to have a presence online?
The answer is yes. It's still necessary.
Just consider the fact that 72% of customers who search locally end up at a shop that's within 5 miles of their location. So even if you're just trying to connect with your local audience, having your own site can greatly benefit your business. In this case, your website doesn't have to be too fancy. Just having directions to your business and your store hours on your About page will be hugely beneficial.
As you can see, having your own website is vitally important for small businesses in 2021 and beyond.
Share This Story, Choose Your Platform!